On Archives and Stolen Papers
On
25 Jul, 2018
2 Comments
Researchers using archives are often puzzled as to why we ask them to register, and leave all bags and coats in a locker before they may use the collection.  It is because archives, libraries, and museums have been pillaged in the past of valuable collections, and the job of an archive is to protect these items, whether from the elements or thieves.
Annabelle Babineau wrote a post about John Saunders for Atlantic Loyalist Connections in November 2016 which included material from the John Saunders Papers, 1775-1910; the entry for the John Saunders papers in The Loyalist Collection catalogue notes that some of the Saunders family papers are held at UNB Archives & Special Collections.
I was looking into this UNB collection to educate myself on what we had here at UNB Archives, when I found out that a number of Saunders papers had been stolen!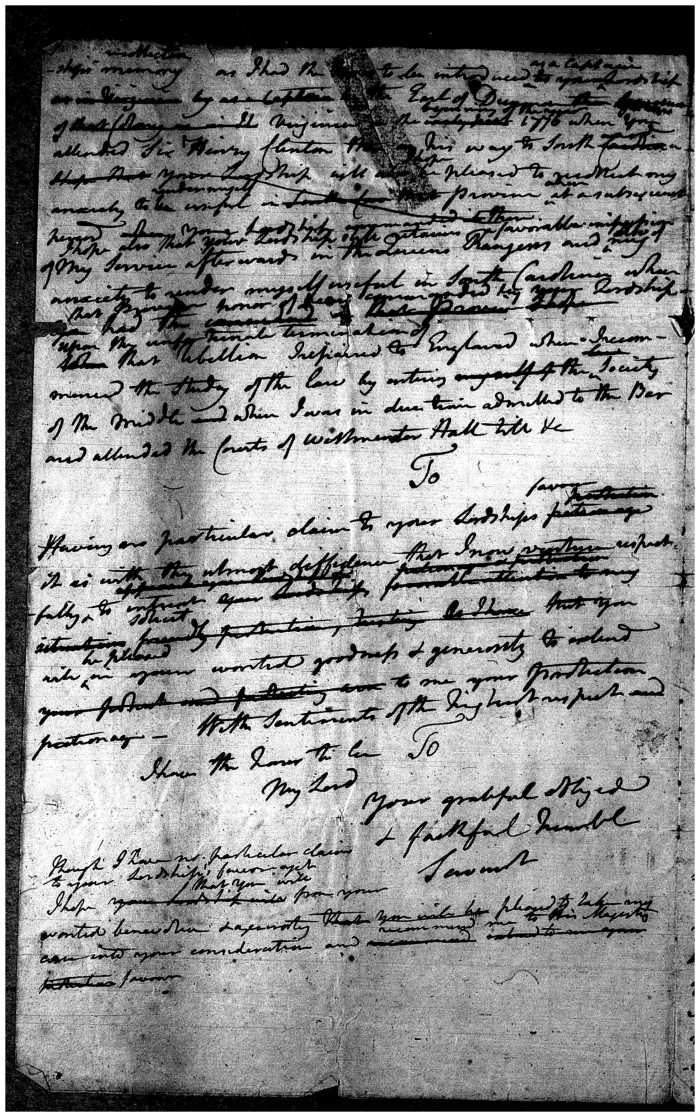 UNB's Archives & Special Collections materials were selectively stolen in 1978 and 1979, as had occurred at many other North American educational institutions in the '70s and '80s. The items were generally eighteenth-century transatlantic stampless letters, commonly known as covers, that travelled from Europe across the Atlantic to ports in New Brunswick, Nova Scotia and Prince Edward Island. Fifty-four covers addressed to the Saunders family were taken.
The collection of Saunders Family papers held at UNB documents the legal, political, and personal activities of two prominent members of the Saunders family: John Saunders and his son, John Simcoe Saunders. The papers include family correspondence, professional correspondence, accounts, deeds, commissions, appointments, and surveyor's maps.
Much of the correspondence in the family papers was between John Saunders and his father-in-law, James Chalmers of Chelsea, England and cover the years 1780-1891. Other correspondents include members of the Saunders family, Col. Nesbet Balfour, Francis Marion, Sir Howard Douglas, Thomas Carleton, Arthur H. Gordon, George Street, John Graves Simcoe, Lt. Col. James Chalmers, Col. Edmund Fanning, Lt. Robert Mackenzie, Maj. Gilfred Studholme, Lt. Col. John Watson, Jacob Ellegood, Jonathan Odell, George Randall, George Storie, Oliver Arnold, Thomas Baillie.
John Saunders (b. 1754) was a Loyalist from Virginia whose property was confiscated by the rebels during the American Revolution. He fought throughout the war as a captain in the Queen's Rangers under Maj. John Graves Simcoe, and later studied law in London. 
After war and resettlement in Fredericton, New Brunswick, Saunders' professional and personal life flourished.  In 1789, he was appointed  a judge of the New Brunswick Supreme Court, and a year later married Arianna Margaretta Jekyll Chalmers (1768-1845).
They had three children in short order:  Arianna Margaretta (1790-1868), John Simcoe (1793-1878) and Eliza Chalmers (1794-1821). 
John Saunders did well in his new home:  he would go on to become  Chief Justice of the Supreme Court in 1822. 
He died in Fredericton on 24 May 1834.  That same year, his son John Simcoe Saunders would be appointed advocate general for New Brunswick.
John Simcoe had been educated in England (first at Oxford, and then studied law under Joseph Chitty), where he met and married his first cousin Elizabeth Sophia Storie of Camberwell, Surrey. 
He returned to Fredericton in 1830, and one assumes due to his excellent education was immediately appointed master of the rolls.  In 1833 he was made a member of the Executive and the Legislative Council.
He continued to move onwards and upwards, for by 1840, he was Surveyor General and in 1845, Provincial Secretary.  Finally, in 1866 he became president of the Legislative Council, a position he held until his death at Fredericton on 27 July 1878.  His correspondence is said to "reveal a sophisticated amusement with, and a mild contempt for, the decaying rural aristocracy of his native province."
UNB Archives & Special Collections is VERY fortunate in that the Saunders correspondence was microfilmed sometime in 1976 before items were stolen, so we still have the information contained within the papers, available in The Loyalist Collection.  There is a list available of the stolen Saunders letters, and also some stolen from the Winslow Family collection.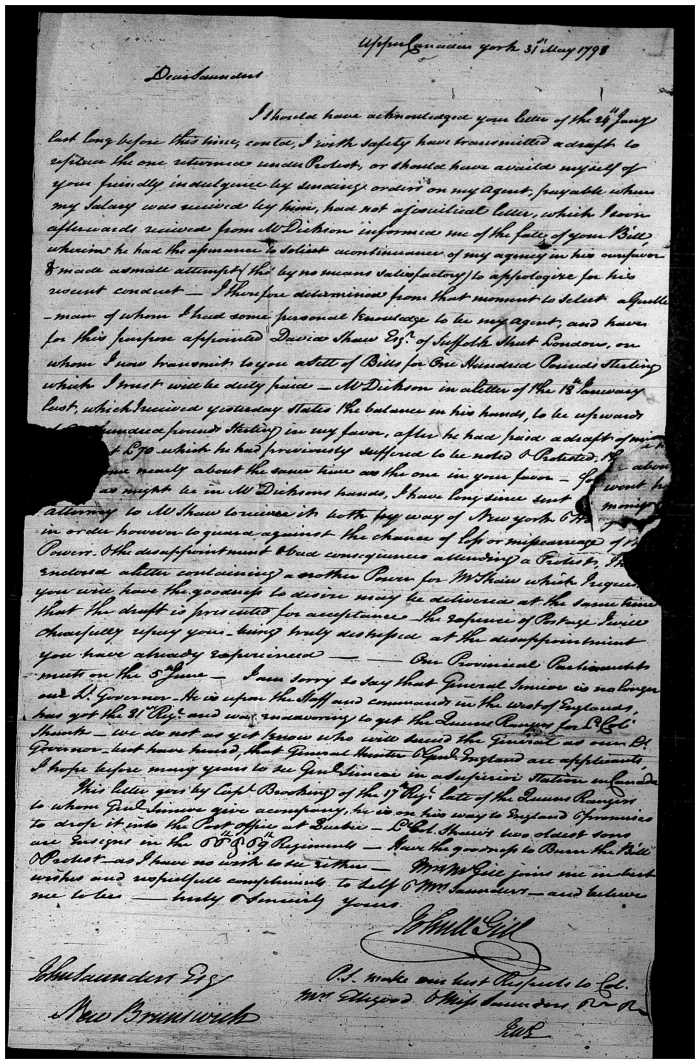 Philatelists, stamp dealers, and sharp-eyed archivists have been among those who have helped in efforts to recover the stolen items. Recently, an incredibly generous alumnus of UNB returned some of the stolen letters that he had purchased through a dealer or auction. 
I hope the Atlantic Loyalist Connections community doesn't mind keeping an eye out for the rest of the missing materials!  We are still very interested in their return.  If you think you may have any information about the stolen material, we can be reached at archives@unb.ca or 506-453-4748.  Thank you for your help!
Christine Lovelace has a MA in Records and Archives Management and is an Archivist with UNB Archives & Special Collections.
SUBJECTS: primary source, archival research, John Saunders, John Simcoe Saunders, loyalist, New Brunswick, military, law, stamps
Share this Blog Post