Loyalist Lowdown: The John Saunders Edition
On
9 Nov, 2016
0 Comments
John Saunders was born and raised in Virginia from a well-established and wealthy family. Saunders's staunch loyalism had a two-fold motivation: firstly, because of the economic considerations, and secondly, and even more importantly, because he strongly believed that being a loyalist would help determine the importance and influence of his family. Later in his life, he stated that he had been taught since infancy "to fear God and honor the King."
After the American Revolution, as a refugee coming to New Brunswick, John Saunders believed that there would be an elite group of loyalists in this new province. This idea of an "elite" group in New Brunswick is a constant theme throughout the rest of his life, which also becomes a prominent subject matter in the Saunders Papers and evident in his online biographies, such as the biography in the Dictionary of Canadian Biography.
Here are 10 quick facts to get your "lowdown" on John Saunders:
1.  In 1775, having raised a troop of cavalry at his own expense, he joined the newly formed Queen's Own Loyal Virginia Regiment as captain.
2.  In 1776, his property in Virginia was confiscated by the rebels. When Saunders eventually established himself in Fredericton in 1795, he built a second house: an exact replica of his Virginia house he had lost in the Parish of Prince William, except it was made out of wood instead of brick.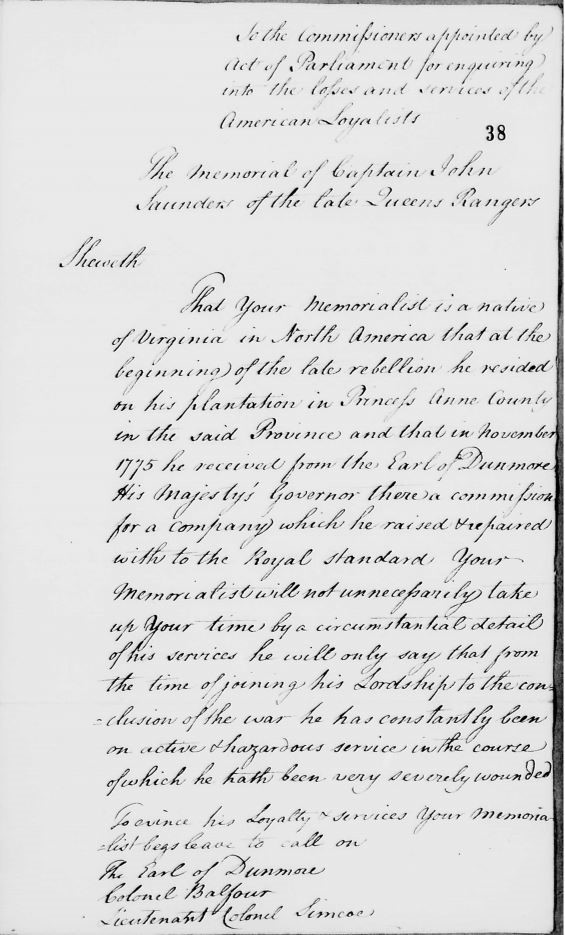 3.  In 1781 at Dorchester, Virginia Saunders ordered the execution of a soldier after a bloody skirmish.  Of this command, another loyalist wrote, "the most disgraceful thing I ever heard of a British Officer"
4.  After returning to England to pass the bar, he became a judge on the Supreme Court of New Brunswick, helping to fulfill his dream of creating and being a part of this elite culture in New Brunswick.
5. There was only five marriageable women in Fredericton when Saunders found his wife, Arianna Margaretta Jekyll Saunders. This union increased his wealth as his new father-in-law gave him a "cash settlement of £5,000 and provided his wife with a life annuity of £300."
6. Saunders once brought the Government to a halt; from 1795 to 1798 Saunders "voted to throw out the appropriation bills, since he was opposed to paying the members of the Assembly, and he thus contributed to a legislative impasse."
7.  He owned a lot of worthless land. Due to his plan of becoming an elite in Loyalist New Brunswick, he earlier amassed a large amount of land—so much land that, at the time, he was one of the top land owners in New Brunswick. However, it turned out that he could not attract tenants:
His house stands in the midst of a wilderness of his own creation, without a neighbour or a practicable road, and his cleared lands are growing again up into forest - Lieutenant-Colonel Joseph Gubbins 1818.
8. Even though he came from a slave owning family and was deeply conservative, he was opposed to slavery, as discussed in his Dictionary of Canadian Biography entry, "In 1800 he had been one of two Supreme Court judges who ruled against the master in a well-known test case on the legality of slavery in the province; the bench was equally divided, however, and no judgement was rendered."
9. John Saunders was also an important part of the government and apparently a man of secrets: here is a document from the Saunders Papers, which includes a coded letter addressed to him from a W. Balfour. There are many coded letters in this collection of papers. Try to decode it, if you can!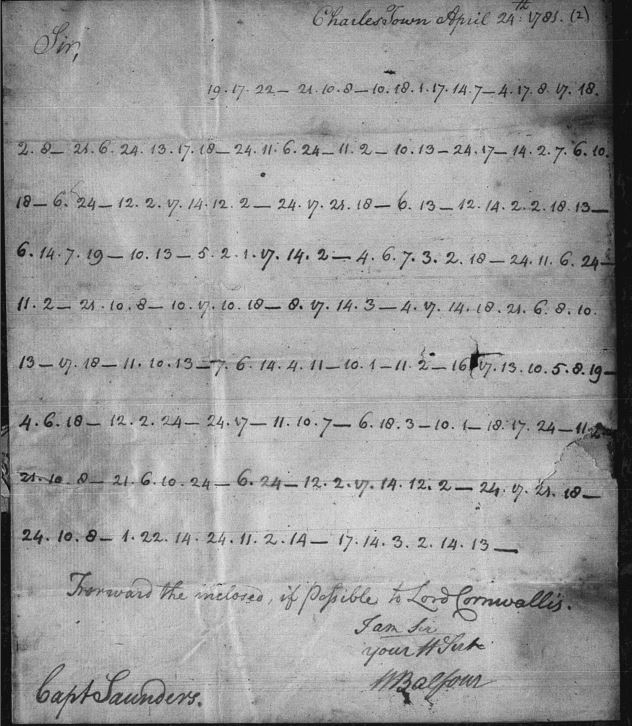 10.  As a Supreme Court Judge, Saunders tried a number of compelling cases in New Brunswick.
In 1808 he tried a case involving deserters who were charged with murdering a man who had tried to capture him.
In 1822, he tried two men for murder as a consequence of a duel, but his address to the jury is questionable at best. The accused, George Frederick Street was acquitted, even though the general understanding of the community was that he was involved in the duel. James Hannay "has suggested that if this address is any indication of the legal knowledge of the judges at the time, then it was probably not of the best." Saunders, however, acquitted because of Street's character and fact that he was from a prominent family.
That same year he also tried cases outside of Fredericton; he tried a case in Miramichi against several rioters which amassed over fifty-nine charges.
Even with all his efforts, the status he lost in Virginia was never regained in New Brunswick.  Saunders did still made an impact within his community and gained a status.
I shall always wish to be of some importance in the society where I might live. - John Saunders
Annabelle Babineau is a student assistant for the Microforms and Government Documents, Data, and Maps departments at the Harriet Irving Library. She is currently completing her Bachelor of Arts in the English Honours Programme.
SUBJECTS:  John Saunders, loyalist, duels, law, cryptography, Loyalist Lowdown, New Brunswick, Virginia, slavery
Share this Blog Post