Treasures in America's Historical Newspapers: Early American Newspapers
On
29 Jan, 2020
1 Comments
Many forgotten and often trivial incidents of daily life can be found by just a quick glance at historical newspapers, including the loss of Basil Rorison's sorrel mare.  Rorison was a member of the provincial loyalist regiment, the King's Orange Rangers, and misplaced his horse while at Harlem, New York during the American Revolution.  We are lucky today that most modes of transportation do not tend to wander off on their own—with our possessions attached!
The advertisement submitted by the unfortunate Lieutenant Rorison is just one small example of what may be found in the rich digital database, America's Historical Newspapers, of which UNB Libraries has access to Series 1, 1690-1876: From Colonies to Nation.  Series 1 includes 340,000 searchable issues of 730 newspaper titles from 23 different states! The collection was based on Clarence S. Brigham's "History and Bibliography of American Newspapers, 1690-1820" and the American Antiquarian Society's collection of colonial and early national period newspapers.  The original microprint (opaque card) version of "Early American Newspapers" is an excellent resource for checking references, but somewhat difficult to search and browse.
The types of information found in the database's newspapers are extremely varied and include international news, notices, government announcements, shipping lists, poetry, goods for sale, and a wide spectrum of advertisements (such as runaway horses, but also indentured servants and enslaved people).  The content is especially valuable for the period of the American Revolution, as newspapers of the era were political tools and provide insight into expressions of loyalist and patriot beliefs.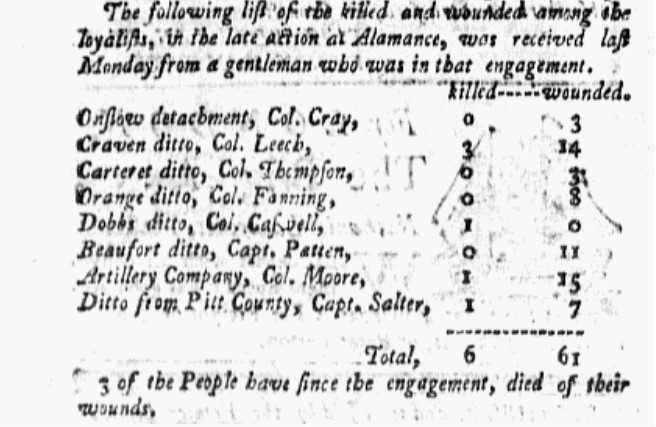 Eighteenth and nineteenth-century newspapers were much shorter than twenty-first century papers, sometimes only four pages in length, but packed full of a variety of information. They were often based in small communities, and recorded the regular lives of many populations through their interests and worldviews. Following the history of particular newspapers may be challenging with frequent title changes, mergers of papers, and switches in publishers, but the organization of America's Historical Newspapers facilitates this process.
Searches may be made within a single issue, or the entire database.  The home page features a simple search, but an Advanced Search option is also available to break up terms and to limit searching by headlines, publication, date, place of publication (with a map function for ease of selection), all text, or a combination of limiters. As well, there is a useful sorting function in the results list which may be ordered by date, location, or language.
Using the browsing features calls up a list of titles, locations, and date range.  A page for each title offers a calendar which shows you the available issues for that newspaper.  You may choose to browse a whole issue, which is a great option for getting a sense of a document in its entirety: the types of material were featured, arrangement, topics, political and philosophical stance, etc.
The digital version of the collection ("America's Historical Newspapers") allows optical character recognition (OCR) of words allowing for a quick search of any individual or topic.  Use of quotation marks around search terms gets the best results. It should be noted, however, that older typeset sometimes makes it difficult for OCR to operate, so do not consider any automatic search exhaustive.
In eighteenth-century typescript practise, the letters c-t were often connected, and a font which looked like ft was used for st, fh for sh, and fs for a double s.  These printing conventions affected cursive writing of the period. The leaving out or addition of consonants and substitution of vowels was also common in print of this period when compared to current spellings. As well, capitalization differed from today and various fonts, such as italics, were used in printing for emphasis.
For ease of viewing, the digital newspaper pages are divided into sections.  Individual articles or sections are downloadable and the files are pre-named with the date of the issue and the name of the newspaper, which is very important information to have attached to files for later research purposes.  For convenience, you may print, email, download, cite, or save individual articles, pages, or issues.
Digital access to a vast, popularly consumed primary sources produced from many perspectives allows for researchers to use the collection in innovative and varied ways. Anyone working within seventeenth to nineteenth century American studies would be well-advised to make use of this very useful resource of an under-utilized medium—newspapers.
Leah Grandy holds a PhD in History and works as a Microforms Assistant at the Harriet Irving Library.
SUBJECTS: newspaper, American Revolution, primary source, digital humanities, research
Share this Blog Post