What's New
Explore our exciting, new, interactive story map,"New Brunswick Loyalist Journeys"! Note: Please update any bookmark links to our project to get the latest version. (Always available in the right side menu.)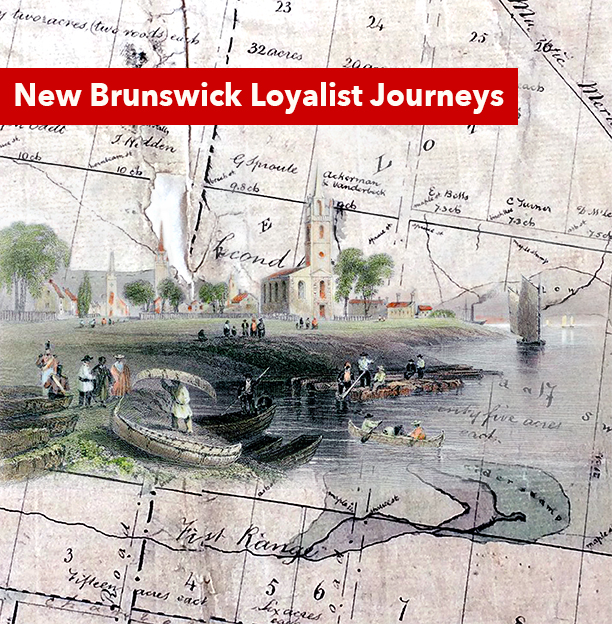 Research Aids
Dr. John Jeffries Papers: A transcription and summary of each of the entries in his diary for the years 1778 and 1779 is available via the catalogue record.
Genealogy:  A selection of genealogical resources at the Harriet Irving Library, see our Research Help page.
Paleography: A "tip sheet" for interpreting historical handwriting and example of Revolutionary era letters are now offered on our Research Help page.
Black History: The Black History Subject Guide now available.  This guide seeks to provide a sample of the wide variety of materials in The Loyalist Collection relating to the study of people of African descent in the British Atlantic World, with an overview of what the materials contain and how to search them.
Collaborative Courses
Read about our collaboration with the University of New Brunswick's Department of History on the teaching blog of the Canadian Historical Association: Using The Loyalist Collection in the Classroom:  Integrating Professional Skill Development in History Courses.
History 4326: Revolutionary & Loyalist Era Medicine with Prof. Wendy Churchill
Explore the social, cultural, and geo-political dimensions of medicine throughout the British Atlantic World between the 1760s and the 1830s—a time of imperial expansion, revolutionary fervor, and intense warfare. Investigate the experiences of patients and practitioners across multiple locations, including the British Isles, North America, the Caribbean, and Africa. Conduct research in The Loyalist Collection at the Harriet Irving Library, gain experience reading original handwritten sources, and learn how to write a blog assignment on a document!
Events
TBA
New Titles 2019/20
Microfilm
Print
New Titles 2017/18
Print
New Titles 2016/17
Microfilm
Print
New Titles 2015/16
Print
Antliff, Bruce W. Calendars of Treasury 77/20 and Treasury
Bell, David. American Loyalists to New Brunswick: The Ship Passenger Lists
Chappell, R. LaVerne, ed. The Daybooks of Benjamin Chappell
DeGrazia, Laura Murphy, and Barbara Vines Little. Research in New York City, Long Island, and Westchester County
Stott, Glen and Carol Hall. Taken and Destroyed: The War of 1812 losses claims, London and Western Districts, Upper Canada
Great Britain. Army. Orderly Book Collection: Kings American Regiment, Dec 1776-Nov 1777
Mooney, James E. Loyalist Imprints Printed in America, 1774-1785
P.E.I. Genealogical Society. Kings County cemeteries, Prince Edward Island: index of monumental (headstone) inscriptions
P.E.I. Genealogical Society. Prince County, Prince Edward Island Index of Monumental Inscriptions, 2nd Edition
Microfilm
Dr. John Jeffries Papers: 1775-1835
New Titles 2013/14
Print
Bouchard-Lévesque Cécilia, Mariages de Gaspé-Est, 1752-1941
Crow, Jeffrey J., A Chronicle of North Carolina during the American Revolution 1763-1789
Goodrich, W. Eugene, Local Government in Early Westmorland County
Morehouse, Frank, Photographs of Anglican Churches in the Diocese of Fredericton
Mouzon, Henry, An Accurate Map of North and South Carolina with their Indian Frontiers
Webber, David A., Uniforms of the Prince Edward Island Militia, 1794-1873
Electronic
Great Britain, War Office
Muster Books and Pay Lists: Royal West India Rangers, 1805-1810, 1814-1819 (WO 12/11233, 11237-38)
Microfilm
New Brunswick, Commissioner of Highways (York County)
Records of Roads, 1789-1862
Journals and Minutes of the Pennsylvania Assembly, 1776-1790
Journals Nov 28, 1776-Oct 2, 1781
Minutes Oct 22, 1781-Aug 24, 1790