Loyalists A to Z, Part 2
On
21 Apr, 2021
0 Comments
We continue this week with our exploration of important loyalist terms.  (See Part 1 here).
muster roll
An official list of the soldiers in an army or some particular division of it, or of the sailors in a ship's company, colonial settlers, convicts in a penal colony, etc. Muster rolls are key documents in researching military loyalists. Learn more about muster rolls in "What's a Muster Roll?"
Neutral Ground
During the American Revolution, Mamaroneck and Westchester Counties, New York were considered Neutral Ground, belonging to neither the British Forces in New York City, nor the American Forces in Connecticut. This designation meant that there was no civil government or law to protect the residents from roaming bands of looters. The region between Morrisania and the Croton River in Westchester County, which was considered neutral ground between the British and American camps, was pillaged by both sides.
King's Orange Rangers
A loyalist provincial regiment raised as a mounted rifle company in Orange County, New York in December 1776 under Captain John Coffin and Lt. Col. John Bayard. One company stationed at Fort Montgomery before being sent to Halifax, Nova Scotia in 1778 where it was disbanded in 1783. A detachment served in the Charleston campaign from 1779-1780.  For more about the King's Orange Rangers in the Maritimes, see "Two King's Orange Rangers, Part 1" and "Part 2."
Provincial Regiment
Military unit made up of American loyalists and raised by prominent individuals who enlisted with the British during the American Revolution.  Many male loyalists were members of provincial regiments for the war years. See the On-Line Institute for Advanced Loyalist Studies for more on provincial regiments.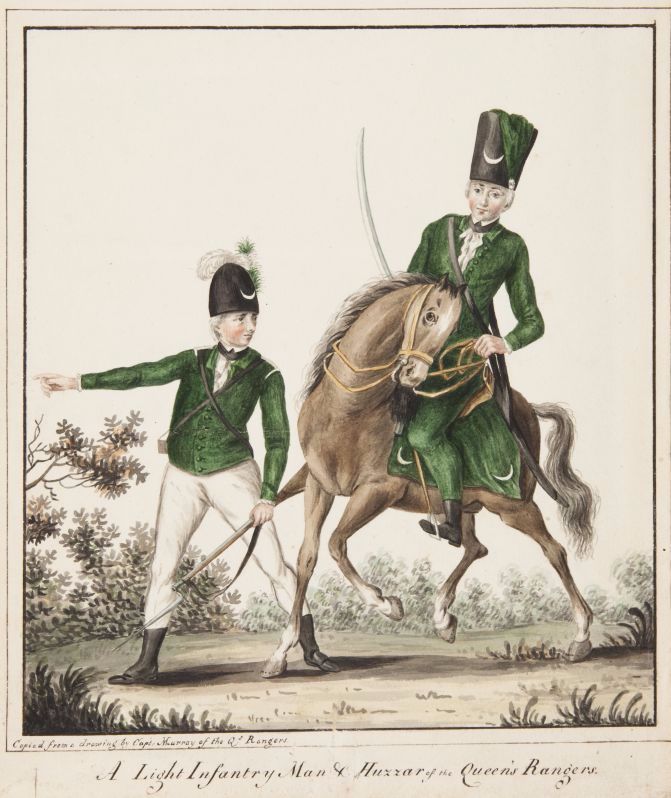 Queen's Rangers
A loyalist provincial regiment raised in New York and Connecticut in August 1776 along with men from the Queen's Loyal Virginia Regiment. Part of the 1777 Philadelphia campaign. Sent to Virginia in 1781. Part of the unit in New York merged with the King's American Dragoons.
refugee
A person who has been forced to leave his or her home and seek refuge elsewhere, especially in a foreign country, from war, religious persecution, political troubles, the effects of a natural disaster, etc.; a displaced person. Loyalists were refugees.
Sierra Leone Company
The corporate body started by British abolitionists involved in founding the second British colony in Africa in 1792 through the resettlement of Black Loyalists, who had initially been settled in Nova Scotia and New Brunswick after the American Revolutionary War.
Thirteen Colonies
A group of colonies of Great Britain on the Atlantic coast of North America founded in the 17th and 18th centuries which declared independence in 1776 and formed the United States of America.
United Empire Loyalist
Generally those who had been settled in the thirteen colonies at the outbreak of the American Revolution, who remained loyal to and took up the Royal Standard, and who settled in what is now Canada at the end of the war.  See the United Empire Loyalists' Association of Canada website for more information.
vestry
A meeting of parishioners, originally in a vestry (which was the room or building attached to the church), for the conduct of parochial business. Members of the vestry were termed vestrymen.  Loyalists often were founding members of new churches during the resettlement period.
Whig
Term for colonists of the Thirteen Colonies who rebelled against British control during the American Revolution. They were also known as patriots, revolutionaries, Continentals, or rebels.
"Expedition"
A privateering ship authorized by the British to capture American ships during the American Revolution.  Loyalists owned or commanded privateers during the American Revolution and also during the War of 1812, as well as having encounters with American Privateers during their travels. For more on privateers, see "License for Piracy" and "Revolutionary Names: Privateer and Prize Ships, 1777-1814, Part 1" and "Part 2."
yeoman
A freeholder or a person holding a small, landed estate.  Many loyalists would have been considered yeoman prior to their migration from the Thirteen Colonies after the American Revolution.
Zimri Armstrong
A Black Loyalist who petitioned the government in New Brunswick after an indenture deal was broken by Samuel Jarvis.  For more on Zimri Armstrong's story, read "The Loyalists' Disloyalty: The Case of Zimri Armstrong, Part 1" and "Part 2."
Sources
The Oxford English Dictionary online is a great resource for historical terms.
Philip R.N. Katcher, King George's Army 1775-1783: A handbook of British, American and German regiments, (Reading: Osprey Pub., 1973).
Leah Grandy holds a PhD in History and works as a Special Collections Assistant at UNB Libraries.
SUBJECTS: loyalist, Black Loyalists, New Brunswick, glossary, provincial regiment
Share this Blog Post