Who was Nehemiah Beckwith?
On
26 Sep, 2018
3 Comments
A month or so ago, a reader of Atlantic Loyalist Connections commented on a blog entry I wrote about Benedict Arnold.  In it, Nehemiah Beckwith (1756-1815) was identified as a shipbuilder who built the first sloop on the Saint John River for General Benedict Arnold.  I thought to myself, "Hey, we have Beckwith material in the UNB Archives & Special Collections, perhaps I could write something linking up the Beckwiths to this Nehemiah!"
But I was having a hard time determining Nehemiah's assumed Loyalist connections, which I found mentioned in some articles but not others. I was not finding him on any lists of New Brunswick United Empire Loyalists or in The Loyalist Collection.  As it turns out, Nehemiah Beckwith was a actually a pre-Loyalist, or rather, a Planter.
I first found a mention of Nehemiah's pre-Loyalist status in an entry from the UNB Archives catalogue about his descendent, Elizabeth Beckwith Hazen. It was not until I stumbled across an article by Lilian M. Beckwith Maxwell that I found the information I was looking for, although sadly she did not cite her sources.  Maxwell's article, entitled "The First Canadian Born Novelist" is about Julia Catherine (Beckwith) Hart, daughter of the elusive Nehemiah Beckwith, who at the age of 17 wrote "St. Ursula's Convent or The Nun of Canada".
Nehemiah Beckwith was born in Lyme, Connecticut in 1756, the son of Samuel and Miriam Beckwith, who migrated in 1760 from Connecticut to take up former Acadian lands in Cornwallis, Nova Scotia.  Further information can be found in Cornwallis-related materials in The Loyalist Collection, such as the Nova Scotia Township Records, and Planter material held at Acadia University. There is also genealogical information regarding the Beckwiths held at UNB Archives (collection MG H 104).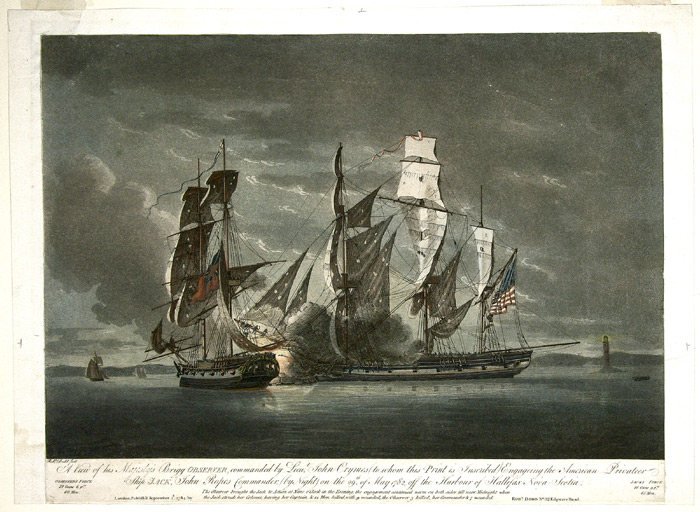 Nehemiah continued to live in Cornwallis until the age of 24.  After the outbreak of the American Revolution, Nehemiah found American privateers were paralyzing his attempts at trade in Nova Scotia, so in 1780 he moved to New Brunswick, acquiring one half of lot 78 from Joseph Dunphy in the Parish of Maugerville where he took up farming and ship building.  There, Beckwith found himself working with many prominent Loyalists. He is mentioned in documents of the Loyalist Edward Winslow.
The ships built by Beckwith carried Loyalists up and down the Saint John River.  The story is further told in "Glimpses of the past: history of the river St. John, A.D. 1604-1784" by W. O. Raymond: "Mr. Beckwith was quite an enterprising man in the early days of New Brunswick. He was the first to attempt the establishment of regular communication by water between St. John and Fredericton, and for that purpose built in August, 1784, a scow or tow-boat to ply between Parrtown and St. Anns. A little later he built at Mauger's (or Gilbert's) Island a ship called the Lord Sheffield, which he sold on the stocks in May, 1786, to Gen'l Benedict Arnold.
Arnold apparently insisted on many expensive changes to the original plan, but did not pay Beckwith for the changes.  As a result, Nehemiah Beckwith believed he had been shortchanged by Arnold.  The shortfall was so great, Beckwith was "very nearly ruined financially."
A Memorial of Nehemiah Beckwith, read 19th July 1788 and ordered to "lie on the Table" (which means to begin consideration in the British usage), documents Nehemiah's plea to the Legislature to release him from debts, most likely incurred from Nehemiah's bad business with Arnold.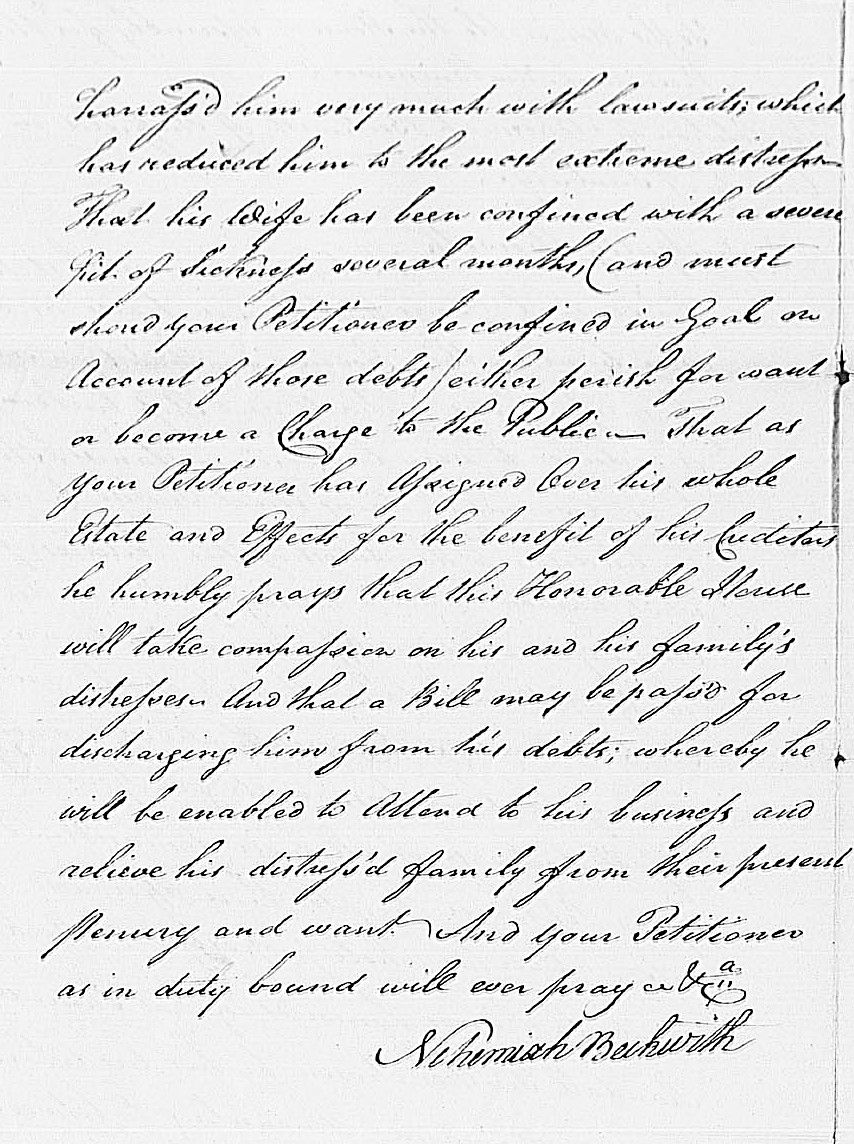 Nehemiah was harassed by lawsuits, which had, as he points out in this petition, "reduced him to the most extreme distress…his wife has been confined with a severe fit of sickness several months and must, should your Petitioner be confined in Gaol on account of those debts, either perish for want, or become a Charge to the Public."
We are not sure what happened to Nehemiah's first wife, Molly Stickney, but in 1790, Nehemiah married Julie-Louise Le Brun de Duplessis (1774-1863) in Fredericton, who had come with Thomas Carleton, Lieutenant-Governor of New Brunswick (in office 1786-1817), as French governess and companion to Miss Carleton, so perhaps the first Mrs. Beckwith did perish from want!
Nehemiah must have recovered financially because sometime around 1790, he built a house in Fredericton on the south side of King Street, the third lot in from Regent Street.
It was two years after his daughter Julia wrote her novel that Nehemiah drowned in the Saint John River. In a file of the Beaverbrook collection, an essay by Christine Leslie on Julia's novel claims that Nehemiah was "killed by highwaymen, on a trip down to Saint John . . ."!  According to Maxwell, "his body was found in the river with his pockets rifled."
Next week . . . learn more about the storied generations of the Beckwith family.
Christine Lovelace has a MA in Records and Archives Management, and is an Archivist with UNB Archives & Special Collections.
SUBJECTS: Planter, ship building, trade, petition, Nova Scotia, New Brunswick, Benedict Arnold, Thomas Carleton, writer, Julia Catherine Hart
Share this Blog Post